AvFab Co-Sponsors Upcoming King Air Gathering #3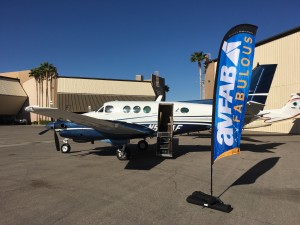 AvFab is co-sponsoring the latest "King Air Gathering III" to be held in Fredricksburg, Tx (Gillespie County Airport T-82) Sept. 28-29, 2018. King Air owners & operators from around the world will gather for this prestigious event hosted by the King Air Academy & King Air Society's Tom Clements. Textron-Beechcraft, Blackhawk Modifications, Raisbeck Engineering, Garmin, and Davis Aviation will be just a few of the many vendors present throughout the conference.
AvFab's King Air 90 "AvFabulous" demonstrator will be on the ramp at Gillespie County airport showcasing how the Avfabulous upgrade package can transform a legacy King Air interior to look like a factory new 250. AvFab will also be debuting a new product at KAG3 for King Air owners, to learn more stop by the booth and talk to Jeff Lowe.
For complete information go to www.kingairgathering.com/
Be sure to stop by our booth and ask Jeff Lowe about our AvFabulous Upgrades and receive an insulated Avfabulous laser-etched bottle!